Download PixelSugar and see how easy it is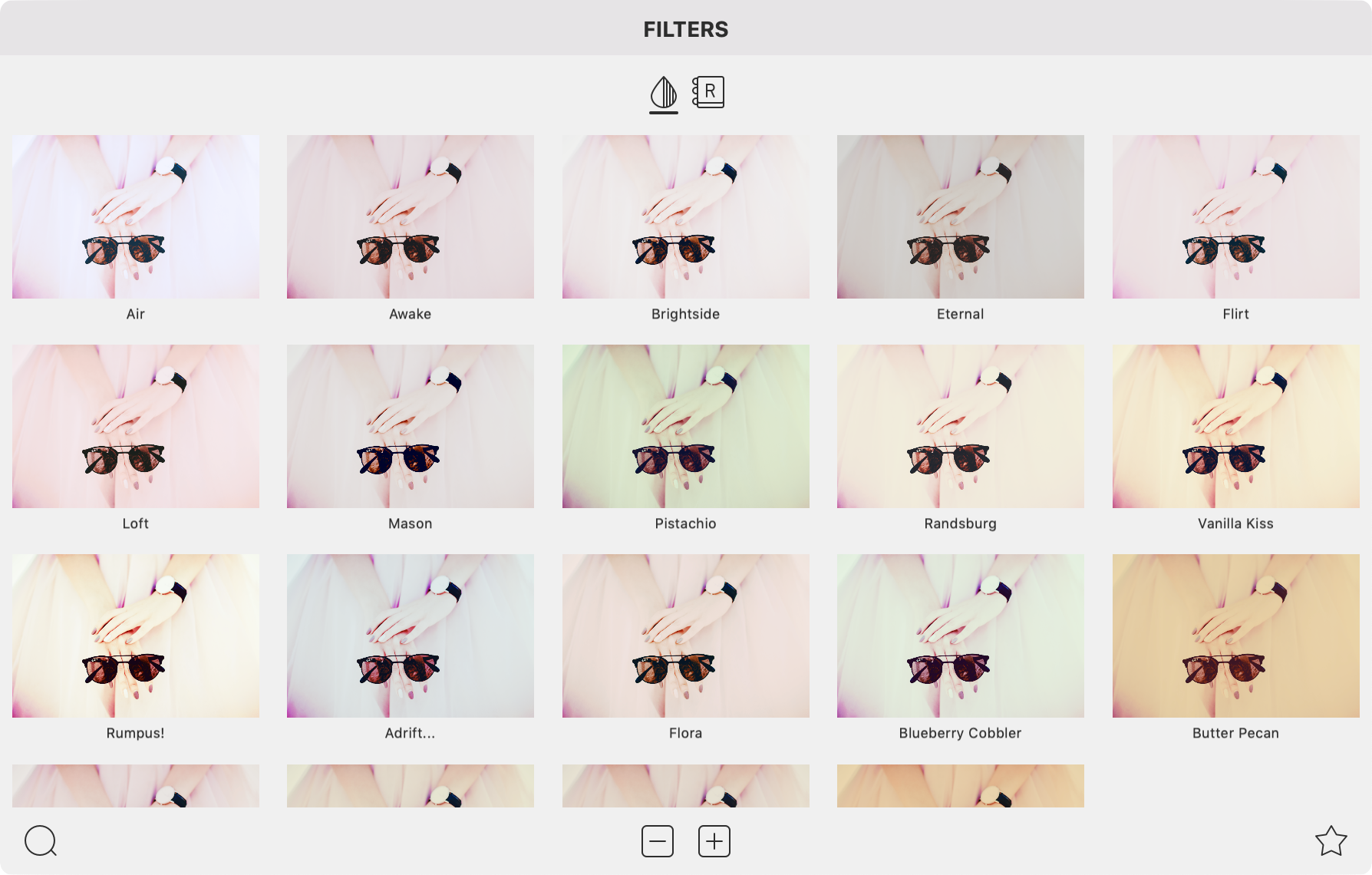 Something For Every Photo
With over 100 professionally-designed filters, there's something for every taste. From mild to wild, modern to retro, you'll find filters to suit any style.
What's Your Recipe?
Your vision is unique, and PixelSugar makes it easy to develop your signature style. Stack and mix filters to make your own personal recipes, and reuse them with a single click.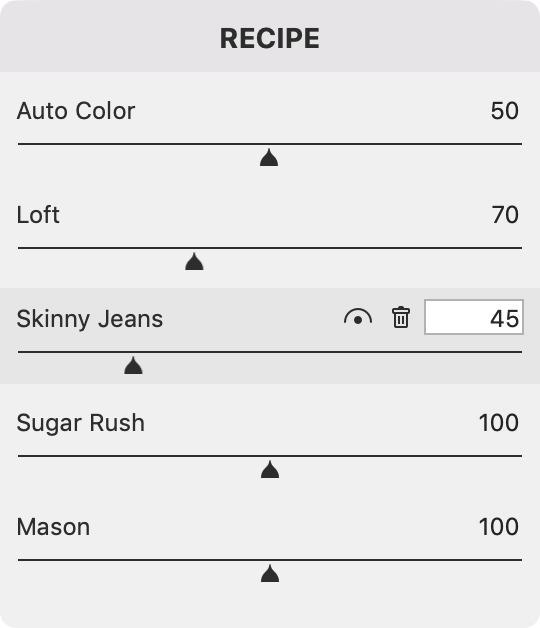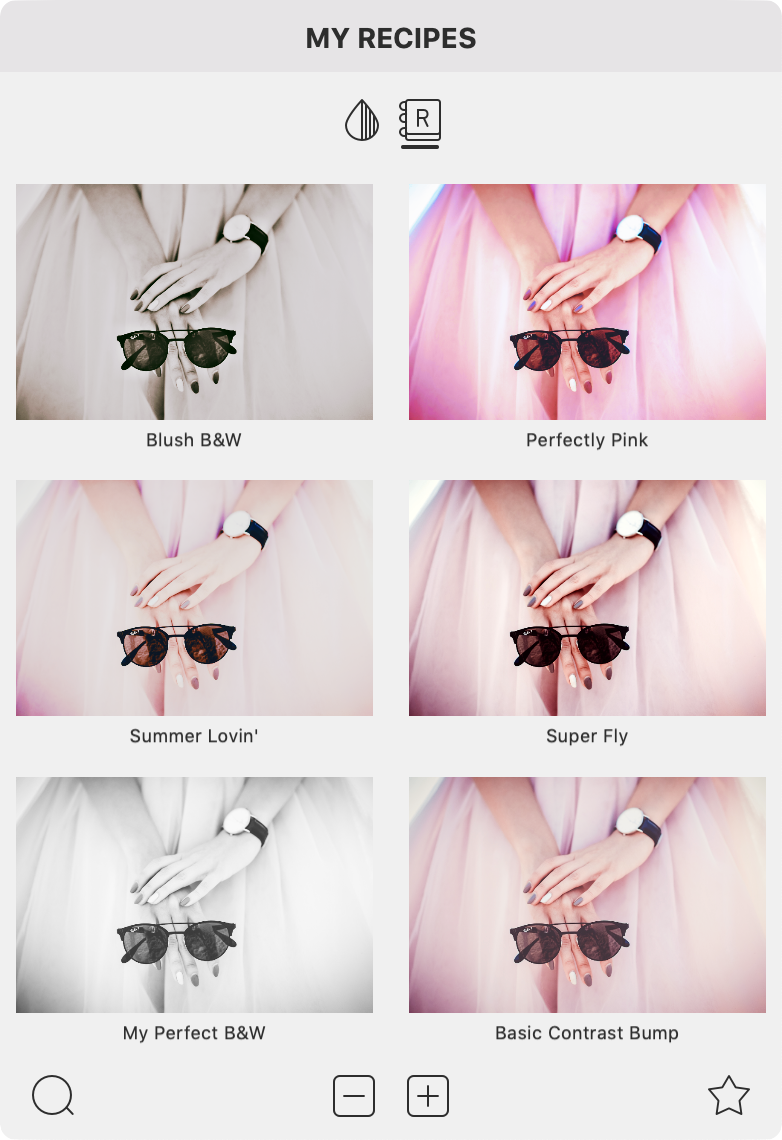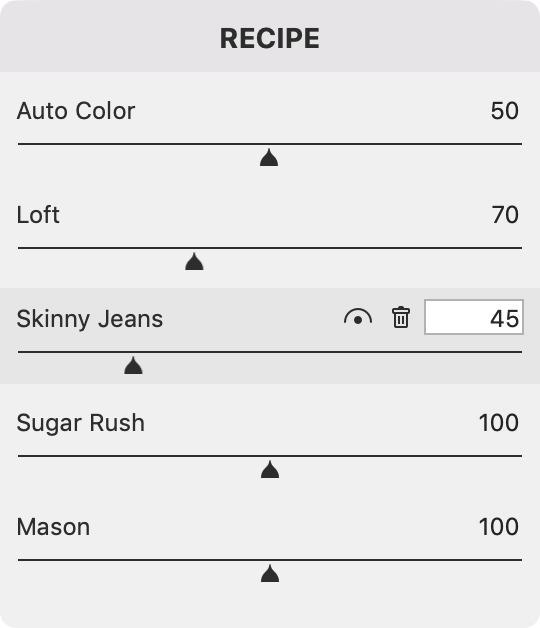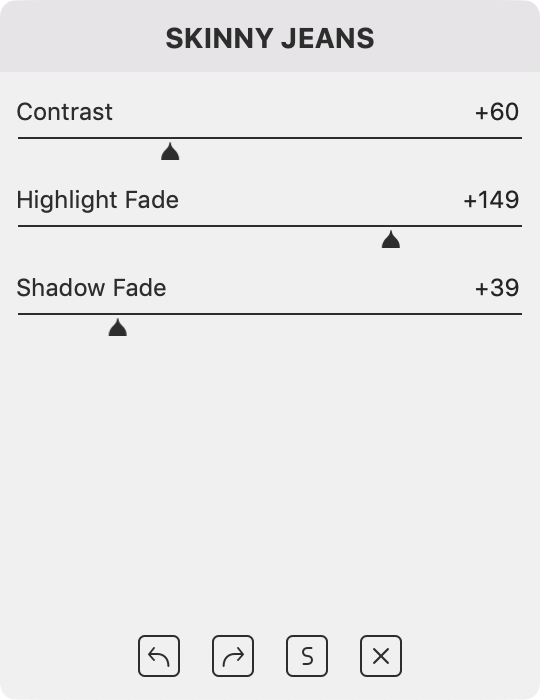 Just How You Like It
Nearly 300 different adjustments let you dial in exactly the look you want - quickly, and repeatably.
What Can PixelSugar Do For You?
Raw Conversion

Process raw format images from hundreds of cameras without Photoshop or Lightroom, or work with JPEG, TIFF and PNGs.

Non-Destructive

PixelSugar automatically saves your edit data as a separate file, so no permanent changes are made to your original image.

Browse Your Photos

Built-in file browser lets you start working immediately, without annoying import steps.

Batch Editing

Apply recipes or filters to multiple files at once. Copy and paste recipes to speed your workflow. Batch export your results.

Works With Lightroom

Use PixelSugar on its own, or as an external editor in Lightroom Classic.

Custom Recipes

PixelSugar lets photographers create fast, consistent results with Recipes®. Combine as many filters as you like & save them to create your own custom filters.

Powerful Adjustments

Add traditional image adjustments including Levels, Curves, and Hue/Saturation for even more control over your edit.

Easy Basic Corrections

Specialized controls for brightness/exposure and warmth/white balance put your most important controls right at your fingertips.

Crop, Rotate, Straighten

Get the framing just right with the non-destructive crop tool. Easily straighten horizons, rotate, or re-crop your final image.
System Requirements
A 2012 or later Mac (compatible with Metal)
MacOS 10.12 (Sierra) or later
License
Each purchase of PixelSugar gives you
One year of updates

Installation on up to 2 computers, within one studio, business or household.
After one year, your copy of PixelSugar will continue to operate (unlike a subscription), but you will need to purchase a new license to continue installing updates.
Raw Compatibility
PixelSugar utilizes the MacOS raw conversion engine. The specific camera models supported by PixelSugar will depend on the version of MacOS you have installed. Please see Apple's support website for more details.
Seen it, loved it, gonna buy it